Getting To Hakuba From Tokyo, Nagano, Nagoya And Osaka, plus Hakuba airport shuttle
Hakuba Access Guide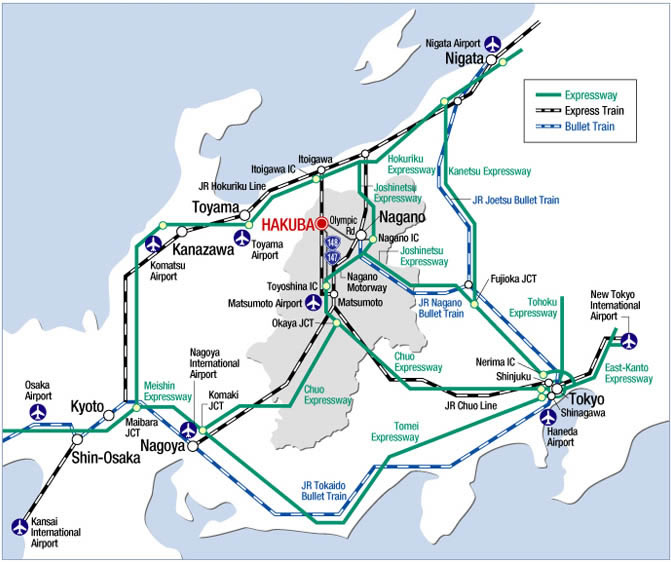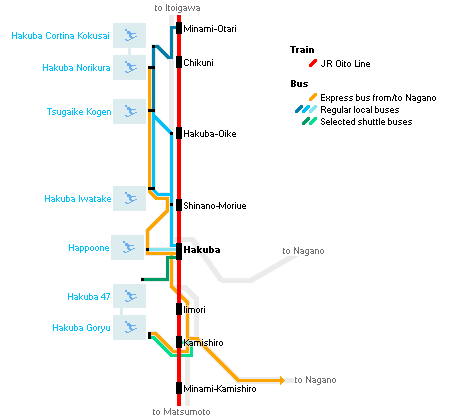 Simple diagrammatic for Hakuba Access
Narita, Haneda, Tokyo to Hakuba via Nagano Shinkansen
Catch the train from Narita Airport (see instructions) or Haneda Airport (see instructions) to Tokyo Station. Follow the green signs for the Nagano Shinkansen which usually leave from Platforms 22 or 23 at Tokyo Station (see map below or Tokyo Station.pdf). Take the Nagano 'Asama' Shinkansen on the Hokuriku (Nagano) line to the Nagano station terminus. The journey usually takes between 1.5 – 2.5 hours (average is 1 hour, 50 minutes). The Nagano Shinkansen runs frequently until 10.00pm each day. The non-reserved cars are to the rear heading to Nagano (usually Car nos. 1-3). All cars are now non smoking. There are between 2-3 trains per hour. If staying overnight in Nagano City you can book hotels here.
Nagano Station to Hakuba (via bus)
The local trains from Nagano to Hakuba are quite inconvenient – we recommend taking the express bus. Buses from Nagano to Hakuba run every hour, with the last bus departing Hakuba at 8:20pm. (Friday night 9.20pm). Buses depart from the East (Higashi) exit of Nagano Station from bus stop 6. Hakuba station ('Hakuba eki-mae') is the 4th stop.
Click here for a Nagano-Hakuba bus route info & timetable
Toyama, Kanazawa, Niigata to Hakuba (via train)
If coming from Kanazawa, Toyama or Niigata via the Japan Sea coast get off at Itoigawa (see below) and transfer to a very local train on the Oito Line. You will to need to change trains again at Minami-Otari.
Nagoya, Osaka & Kyoto to Hakuba (via train)
From Shin-Osaka or Kyoto station, catch the Tokkaido Shinkansen to Nagoya (usual travel time is 40-55 minutes). Transfer at Nagoya Station to the Chuo Honsen line and catch the Shinano Limited Express bound for Nagano Station (normal transit is 3 hours) that travels through the scenic Kiso Valley. Keep your camera out as there is some beautiful scenery along the way.
When coming from Nagoya on the Shinano Limited Express DO NOT go all the way to Nagano City. Get off at Matsumoto (see below) and transfer for trains bound for Hakuba (the local Oito line or the Super Azusa Express). The latter is faster but more expensive.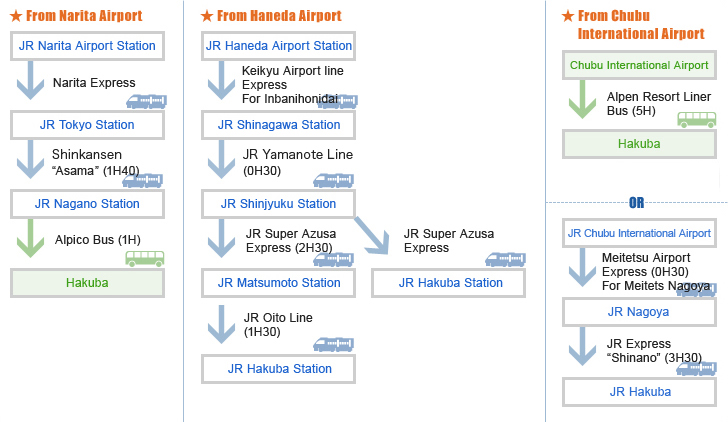 By Rental car to Hakuba
For ease of pre-booking a rental car online and great selection check out the options here. There are now numerous companies offering Hakuba car rentals in English (as well as support in English), plus some cars can come with English GPS. Most major car rental companies have branches in Nagano and Matsumoto but obviously can also only be found in major cities such as Tokyo or Narita. Check the bottom of this page for tips on renting cars in Japan.
There are two options to get from Tokyo to Hakuba by car:
1. Take the Chuo Expressway to the Okaya J.C.T and head towards Nagano on the Nagano Expressway. Exit at the Toyoshina Interchange and follow Rte 147 &148 through Omachi and onto Hakuba.
2. Take the Kanetsu Expressway to the Fujioka J.C.T and head towards Nagano on the Joshinetsu Expressway. Exit at the Nagano Interchange and follow the Hakuba Nagano Olympic Road to Hakuba. Both routes take approximately four hours.
From Osaka, Kyoto and Nagoya
Take the Chuo expressway to the Okaya Junction and transfer to the Nagano expressway. Follow this to Toyoshina and exit the expressway. Follow the signs to Hakuba which will take you through Omachi and on to #148. It is approximately 3.5 hours from Nagoya and approximately 5.5 hours from the Kansai area.
Taxi Shuttle to Hakuba
For ease of convenience a shared taxi service will meet you at the airport – Narita (Tokyo), Haneda (Tokyo) or Centrair (Nagoya) – and drop you directly at your accommodation in Hakuba. This service is particulary handy for families with children, those with a lot of luggage or those arriving late. Prices are set per person and no discount is provided if a return ticket is purchased. Bookings do need to be made at least 10 days prior but the earlier the better as some days book out early. View here for more info and/or booking request.
Bus to Hakuba
Tokyo/Narita to Hakuba
If you arrive at Narita Airport between 3PM and 7PM, Nagano Snow Shuttle is the cheapest travel option if you want to make it to Hakuba that night for under 12,000yen. All passengers are dropped off at their accommodation in Hakuba. Buses leave Hakuba at 10.30 in the morning and Narita Airport at 8pm. Drop off and collection in Tokyo can also be arranged. This is a door to door service like the Chuo Taxi but can take longer if waiting for delayed flights and dropping many guests off at their hotels.
You can also take an Keio Bus (4700 yen one way) from Tokyo to Hakuba. However there are only a limited number of departures per day (4 per day, 2 in the morning and 2 in the afternoon – see timetable). The service usually takes around 4.5 hours (if there are no traffic jams) with two ten minute rest stops on the way. During holidays and weekend commuting times traffic is heavy so be prepared for delayed times or take a train.
To find the bus terminal see the map here. Exit Shinjuku Station on the west side and follow the signs, or exit on the street level and cross the street and turn left, go one block and turn right. The terminal is across from Yodabashi Camera. Please note (just in case there's potential confusion): The bus from Shinjuku – Hakuba is actually run by the the Keio Company. The timetable just happens to be on the Alpico website as they share the same bus terminal in Happo (Hakuba).
As this service gets very busy it is probably best to pre-book if you can. On the website it says "Japanese recommended" and the number in Tokyo (03-5376-2222) is an automated system. However, the Hakuba number (0261-72-8255) has a human on the other end – who may speak English well enough to take your reservation. So if you plan to pre-book the Shinjuku-Hakuba bus try contacting the Hakuba number. It doesn't matter where you start.
Bus: Osaka & Kyoto to Nagano plus Kansai Ski Buses
A direct highway bus from Kyoto to Nagano via Osaka is available from Alpico Bus Line. During winter there are a number of ski buses that take skiers directly from the Kansai area (Kobe, Osaka, Kyoto and Nagoya) to Nagano ski resorts, including Hakuba. Tickets can be prebooked but service is only in Japanese. Check this E-Ski Bus link (supplied via Google translate) for more details.
Book cheap Osaka Hotels and Kyoto Hotels here
Highway Bus from Osaka/Kyoto and Nagoya to Matsumoto then train to Hakuba
A. From Osaka: Alpico Bus Info
B. From Osaka: Ski bus direct to Hakuba
Transfer in Matsumoto to the Oito line bound for Shinano-Omachi and Hakuba (some of these connections have a long wait in Shinano-Omachi).
Osaka, Nagoya or Kyoto Stopover
If having a stopover in Osaka, Nagoya or Kyoto along the way you can easily arrange good value accommodation here.
A free and frequent shuttle bus service is available in each direction within Hakuba village (Goryu Escal Plaza, Happo, Echo Land, Misorano Tsugaike, Wadano, and Hakuba station). For more information, please print out the route map or inquire at the desk of your hotel or inn. A return trip costs 500 yen. Happo Bus terminal is a hub for Iwatake buses. The Hakuba shuttle buses operate from Dec 20 – Mar 31 only.
---
In the evening a recently introduced Genki-go shuttle bus runs each evening covering a wide area of the Hakuba valley. The service is convenient and cheap – only 300yen. The buses pass through the accommodation areas and go around to the main apres ski and restaurant areas as well as all supermarkets in the valley. The evening service runs from December 20th to March 15th only. You must purchase a ticket in advance at one of the resort's hotels and shops rather than on the bus.
Hakuba Taxi Information
The easiest place to catch a taxi is in front of Hakuba station but you can also ask your hosts to call one of the following:
Alps Taxi 0261-72-2221
Hakuba Kanko Taxi 0261-72-2144
Hakuba Kanko Taxi Happo Office 0261-72-2327
Omachi Meitetsu Taxi 0261-72-2236